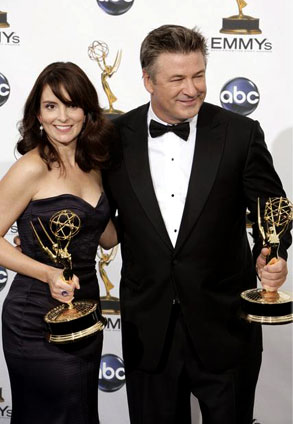 ABC/ADAM LARKEY
Liz Lemon (Tina Fey) and Jack Donaghy (Alec Baldwin) are never, ever, ever getting together on 30 Rock.
Newly trophied Outstanding Lead Actress in a Comedy Series Tina Fey has repeatedly said "no way José" to the idea of a Jack-Liz hookup—and all that schmoopy "shippy" B.S. is totally beneath an outstanding comedic television program like 30 Rock anyway. Right?
Sure, except, well, I checked the weather forecast for 30 Rock season three, and I think that a cold day in hell could be coming to pass...