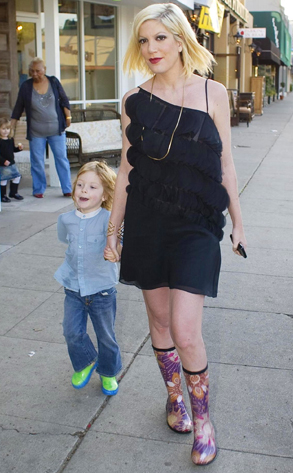 Tony Forte/INFphoto.com
Having a baby is a beautiful thing. Hearing what kids have to say after the fact? A very cute thing.
A little more than a week after giving birth to her daughter Hattie, Tori Spelling took a brief break from diaper duty today to fill fans in on what her son Liam asked upon seeing his mom postpregnancy.
"Monkey's 1st reaction to mama after new baby," the now mother-of-three tweeted along with a link to her site that reveals the following post:
"The day I had Hattie, Liam and Stella came to visit us in the hospital," Spelling writes. "When Liam saw me, he ran over and hugged me. He immediately looked down at my stomach, saying, "Mama do you have a hole in your belly now? You look so much prettier without that big belly."
Ah, out of the mouths of babes.