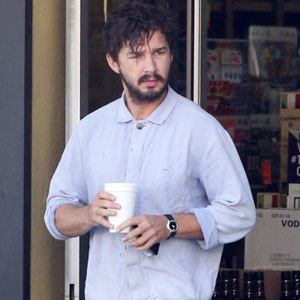 Flynet
The Company You Keep isn't just the name of Shia LaBeouf's new movie. It's also a reminder he might want to start heeding, as according to Canadian news reports, the actor got into a violent altercation outside a Vancouver bar last week.
The reported incident was seemingly even caught on camera, and shows a man identified as (and certainly resembling) LaBeouf not only down on the ground, getting punched repeatedly in the head by a shirtless, clearly drunk man, but also shows the actor attempting to fight back, though ultimately getting restrained by a couple of friends.
Here's the deal…
According to Vancouver radio station News1130, the fight began inside the libation-serving Cinema Public House before the bar's security team kicked both men out. The fight didn't end there, however, instead continuing on outside the bar on the city's popular Granville Street, where the cameras picked up the action.
It remains unclear what initially sparked the brawl (LaBeouf's rep has not yet addressed the incident), but according to video of the fight obtained by TMZ, it got to the point where the man LaBeouf was fighting eventually ripped off his shirt and was filmed delivering repeated blows to the 25-year-old as he lay on the sidewalk.
After getting up, an obviously (and justifiably) heated LaBeouf was seen trying to have another go at the man, but he was wisely held back by his friends, who are overheard on tape telling the actor, "You gotta lay low right now."
Not bad advice.
And despite the furious and physical exchange, which took place last week, LaBeouf seemed perfectly recovered yesterday, as he was photographed riding his bike and getting coffee around the city with no obvious bruising or injuries. A couple quiet nights in might be just what the doctor ordered.