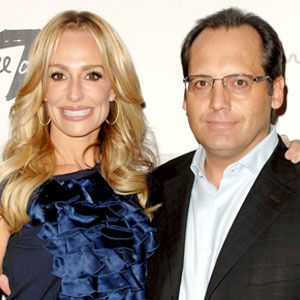 ANDREAS BRANCH/patrickmcmullan.com/Sipa Press
Certain members of Russell Armstrong's family have pointed fingers at his participation in The Real Housewives of Beverly Hills for hastening his downward spiral.
But his widow, Taylor Armstrong, doesn't necessarily think Russell would be alive today if not for the cameras.
She's pretty convinced, however, that she herself might not be alive if not for the cameras!
"There was a storm happening in my life that was very separate from a camera being there," Taylor said when asked during an interview with KTLA-TV whether the Bravo cameras amped up and spotlighted the drama in her life in a destructive way.
"I was in an abusive relationship for six years and that was going on...The only thing I would say," she added, "if the cameras were not in my life, I might not be sitting here today. A lot of domestic violence situations end in murder-suicide, versus just suicide. I have my daughter with me today, and by the grace of god and, perhaps, reality TV, I'm sitting here and so is she."
Russell hanged himself in August in the Mulholland Drive home he was living in after he and Taylor separated. Foul play was quickly ruled out and an autopsy confirmed that his death was a suicide.
Business associates said that Russell had seemed depressed, but overall expressed shock that he chose to end his own life.
While he and Taylor had the most obviously tumultuous marriage on the show, it was only after his death that Taylor started speaking publicly about physical abuse she suffered during her six-year marriage. Court records showed that one of Russell's exes had obtained a restraining order against him after accusing him of abusing her and their young son.
Taylor says that she has a titanium implant "holding up" her right eye, due to an injury inflicted by Russell.
"I believe that, subconsciously, I may have signed up for the show to try and allow my problems to be in the public eye to some extent because, again, it was my saving grace," the mother of 5-year-old Kennedy said.
"Going through that for so long and then having the ability to find a platform of my own—which is really what I want to focus on now, helping women who are in a dangerous situation, find a platofrm find a financial source to get them out fo that situation before something tragic happens."
When asked about the criticism she's received for putting herself right back in the public eye so soon after such a traumautic event, Taylor insisted that her purpose now is to help others.
"I spent five weeks in my house," she said. "We're all put on this earth with a plan, a mission, and we're handed a very specific mission through a tragedy. And If I don't do something with it I'm not doing right by other women, and men, who might be in a dangerous situation."
Of Kennedy, Taylor said, "I'm thankful to be here. Imagine if she had two less parents, instead of one. I feel thankful at this point."