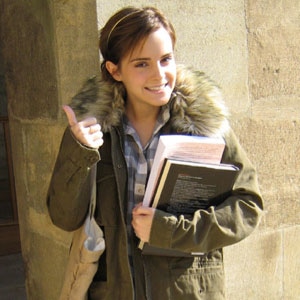 emmawatson.com
Emma Watson has gone from Hogwarts to real-life Oxford, where she's starting classes after having transferred from Brown University.
The Harry Potter star posted a message about attending the famed English university on her blog, telling her fans that she won't be as visible in the coming months because she plans on hitting the books hard and concentrating on school.
So what's she saying about her new start?
"To Everyone who is starting a New School Year, (sorry those who have been at school for a while Oxford starts late) Just to say have a great term and good luck with all your work," she wrote.
She also told her fans they might not be seeing her pretty face for some time because she's taking her higher education very seriously.
"You might not hear from me for a while because I will be really busy studying but I wanted to just say hi and bye :) Hope you all like My Week With Marilyn and I'll keep you posted on Perks [of being a Wallflower] . Love, Emma xx," she wrote.
The actress also posted a cute picture of herself carrying books and giving a thumbs-up.
It's a far cry from the rough days she was rumored to have had at Brown, where reports claimed students picked on the actress for starring in Harry Potter. But Emma says she never heard anyone outwardly bullying her and decided to just transfer schools last spring to take a different course of study.
"Emma has enjoyed her time at Brown tremendously and made many friends there who she keeps in constant contact with," her rep had told E! News at the time. "She has now decided to change university, but not for the bullying, as that is just completely untrue. She has just decided to continue with a different course. But, for reasons of security I am not prepared to divulge which university she will be attending."
Well, now we know. And it appears Emma's ready to stay this time.