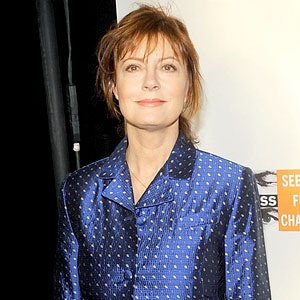 Gary Gershoff/Getty Images
Susan Sarandon's never been one to stay mum about politics—or other hot-button issues. But after referring to the pope as a Nazi, the outspoken actress has found herself in the hot seat.
"She's a despicable person to make these kinds of despicable remarks," Bill Donohue, the president of the Catholic League for Religious and Civil Rights tells E! News in response to Sarandon's smackdown of Pope Benedict XVI.
So what led the Thelma and Louise beauty to diss the pontiff—not once but twice?
During an interview with fellow actor and filmmaker Bob Balaban in the Hamptons Saturday, per Newsday, the actress mentioned she had sent the pontiff a copy of Sister Helen Prejean's Dead Men Walking, which inspired the 1995 film for which she won an Oscar.
"The last [pope]," she clarified, referring to Pope John Paul II. "Not this Nazi one we have now."
After Balaban's shocked response, Sarandon simply repeated the remark, drawing some laughs from their audience at the Bay Street Theater.
Not laughing is the Catholic League's Donohue, who, in addition to calling the actress "despicable," said, "it is very hard to find someone dumber than [Sarandon]."
"He deserted the Hitler Youth at the first moment," Donohue said. "[Sarandon] doesn't know what she's talking about...To blame him for something that he was never responsible for; he was forced to join as every boy his age was. Unlike the others, he deserted."
Donohue said he won't even seek an apology from the "hard-core leftist" actress because "she is ignorant and full of hatred to the Catholic Church."
Sarandon has issued an apology for her remarks as of yet. Maybe she is following the lead of fellow filmmaker Lars von Trier, who is avoiding the press since his jokes at the Cannes Film Festival about being a Nazi and understanding Hitler.