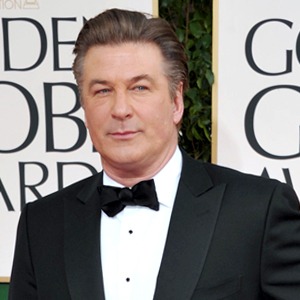 Evan Agostini/NBC/NBCU Photo Bank via AP Images
We knew Alec Baldwin had perfected his soothing, monotone, public radio voice playing Pete Schweddy on Saturday Night Live. Now he's putting his Schweddy balls to good use.
For his public radio podcast.
The 30 Rock actor, who has dropped serious hints that he could be done with his Emmy-winning role after this season, has already lined up some big-name guests for the gig, which goes online Oct. 24.
The podcast, mostly sticking to an interview format, will cover everything from pop culture to politics, with Baldwin chatting up an array of guests, leading off with Michael Douglas, who dishes on how he watches Glee with his young daughter. Following podcasts will have Baldwin talking to (and most likely arguing with) Rebublican campaign strategist Ed Rollins, Kardashian momager Kris Jenner (we cannot wait for that one), Chris Rock, author Erica Jong and talk-host Dick Cavett, WNYC confirmed.
Baldwin has filled in on WNYC before for host Kurt Anderson.
The star will do about one podcast a week, which will eventually be turned into a radio show, although no plans are set yet. He is only under contract for this upcoming season of 30 Rock and might not be back if the show is renewed.
"I might," he told the Associated Press. "I wouldn't want to prevent them from having another year, because they're all my friends and they've been good to me. Maybe I would do a piece of the year. But I really do want to move on to other things."