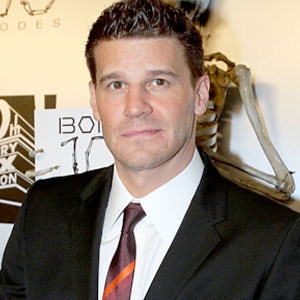 Alexandra Wyman/WireImage
David Boreanaz has not only publicly admitted that he cheated on his wife, but he has said the whole ordeal actually strengthened their marriage.
Now, would you believe a company is offering the Bones star the chance to make some money from the situation?
No, there's no sex tape with the other woman about to hit the market, but...

In an effort to piggyback off his effort to publicly make amends, AshleyMadison.com, an online dating service for people who are in relationships, is going after Boreanaz to become the face of the company for $250,000.
Riiiight. That's some offer, but really?
"We feel Mr. Boreanaz would be the perfect fit for our brand as he has given a public voice to something we have been saying for years," AshleyMadison's CEO Noel Biderman exclusively tells us.
"People enter into affairs to save their marriage, and Mr. Boreanaz had the courage to admit that," Biderman says. "The rest of the cheaters in Hollywood—there is no shortage on AshleyMadison, but we are not naming names—might also find this kind of confession liberating."
Biderman showed us the letter he says he sent to Boreanaz's management.
As you may recall, Boreanaz recently opened up to TV Week, calling his 2010 fling "a bonding experience, in the long run" for him and his wife of 10 years Jaime Bergman. The couple has two kids together.
"This is an absurd story and not an opportunity that would ever be entertained," Boreanaz's rep says.
As for the "bonding experience" quotes, the rep said, "David did not talk directly to TV Week. His recent quotes were from a press conference on behalf of Bones and taken out of context."
What's your take: tacky or not? Sound off in the comments.