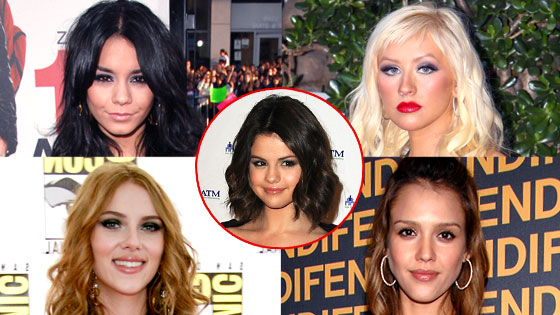 Jordan Strauss/WireImage.com; Flynetonline.com; Dominique Charriau/WireImage.com; Steve Granitz/WireImage.com; AP Photo
"These people are, quite frankly, scum."
So said U.S. Attorney Andre Birotte Jr. this morning of the one-man hacking mastermind who's terrorized Hollywood starlets for the past year. And, no doubt, so think the slew of celebrities, like Scarlett Johansson, Vanessa Hudgens, Jessica Alba, Mila Kunis, Christina Aguilera and Miley Cyrus, who have been victimized by him.
Luckily for them, it sure sounds like the man brought down by the FBI's Operation Hackerazzi and charged with a whopping 26 counts will be going away for a long, long, long time.
First things first: the man himself was identified this morning as Christopher Chaney, a 35-year-old Florida man who was arrested in Jacksonville this morning for his seemingly single-handed role in hacking into the email accounts of dozens of people, most of them celebrities. He went by the usernames "trainreqsuckswhat," "anonygrrl" and "jaxjaguars911."
A Los Angeles grand jury indicted Chaney yesterday, with the breakdown of his wrongdoings as follows: nine counts of computer hacking, for illegally gaining access and causing damage to email systems operated by Apple and Yahoo; eight counts of aggravated identity theft for using email identities in furtherance of his computer hacking; and finally nine counts of illegal wiretapping for intercepting the private email communications of his victims (wiretapping—it's not just for phones anymore).
All told, if convicted, Chaney faces a maximum monster 121 years in federal prison. The aggravated identity theft charges alone each carry a minimum two-year sentence.
The FBI did not give details as to how they tracked down Chaney, but said that he was arrested without incident this morning, and that it appeared he worked alone and did not profit from his actions. So yes, chalk this privacy-violating nightmare up to "just for kicks."
"Motive is always a question in a criminal case," Birotte said. "We have no information to suggest that he profited. He's been charged as a single defendant. The information that we have is that he was culpable for wire-tapping and hacking these accounts."
As for the celebrity involvement, officials did not name names, but did confirm that those celebrities who aided them, and gave their approval for this to happen, did get named in the indictment, though Birotte did confirm that Johansson's nude pics were part of their investigation.
As for how the celebs got hacked in the first place? Well, whether or not Chaney was a computer genius, he didn't have to be in order to gain access to their accounts.
The FBI agent said that the victims were all compromised after Chaney mined through publicly available data and managed to figure out the stars' passwords and security question answers.
Once he breached their accounts, he set up an automatic forwarding system where every email they sent or received also made its way into an account he controlled. In addition to the initial hacked celeb, officials said this process also allowed Chaney to harvest the address books of the stars and set up the same system for anyone else that they had an email address for.
Which, in this case, certainly seemed to be plenty of fellow celebrities.