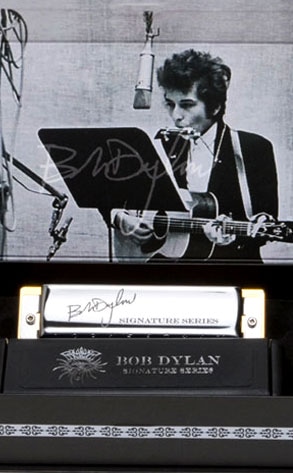 hohnerusa.com
For Bob Dylan fans, the answers these days are blowin' in the keys of C, G, D, F, A, B and E.
Yes, for a small price, you can buy a Dylan signature harmonica from the harpmeisters at Hohner. And for a slightly larger fee (a mere $25,000), you can have a presumably saliva-free model played by the Rock and Hall of Famer himself.
According to the company, Dylan has preferred Hohner harmonicas since his days trolling the basements of Greenwich Village. And he was, um, instrumental in the design of the new line of handcrafted harmonicas down to the crown logo and the elegant ebony gift boxes they come in.
"He's played our products forever. Usually when he'll go on the road, his road manager will call here and purchase a bunch of harmonicas to go out with," Scott Emmerman, Hohner's director of marketing and sales, tells E! News. "Bob Dylan has played harmonicas his whole life, his whole career, so I think it was a natural [fit]."
Would-be folk-rockers will have a choice of four different lines:
There are 25 limited-edition sets of seven Marine Band harmonicas in the natural keys of C, G, D, F, A, B and E that Dylan personally played during his storied career; the hand-signed sets will retail for a whopping $25,000 each exclusively through Sam Ash Music.
100 limited-edition harmonicas in the natural key of C, also hand-signed by Dylan, will fetch $5,000 apiece.
A more standard design done in collaboration with Dylan will feature a machine stamp of the singer's John Hancock and come in the seven natural keys.
Finally, a similarly designed standard C harmonica with the machine stamp of his signature will also be available.

In return for his freewheelin' endorsement, the Grammy, Oscar and Pulitzer Prize winner will receive a percentage of the sales, but financial details were not disclosed.
The hand-signed limited-edition harmonicas will be available exclusively through SamAshMusic.com starting at midnight Oct. 29, while the regular Dylan line will be sold via Hohner dealers worldwide.
Aside from Dylan, the harmonica purveyor recently released a special-edition set tied to Aerosmith frontman Steven Tyler and is looking to manufacture signature models from other stars, possibly including Bruce Springsteen and Stevie Wonder.