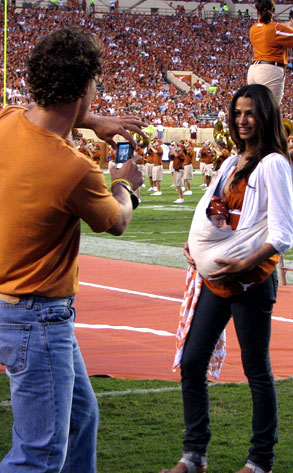 INFphoto.com
Ever since Matthew McConaughey became a father, the actor has really exposed himself. And we don't mean in his typical shirtless fashion either.
Whether he's revealing how he "got tribal" during the delivery of his son, Levi, or that he considers the baby's mama, Camila Alves, "the love of [his] life," the new dad has shown he is pretty focused when it comes to his family.
And this holiday weekend was certainly no exception, as the Texas native was spotted on the other end of the camera—or, at least, his camera—proudly aiming and clicking away at his beautiful brood during the University of Texas Longhorns football game.
With his already positive outlook on life seeming to get more upbeat by the day, we wouldn't be surprised if Matty decided to change his famous Just Keep Livin' mantra to This Is Livin'.