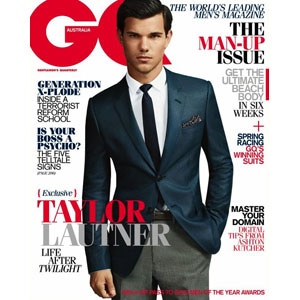 GQ Australia
It's a good thing he's pretty because Taylor Lautner is totally giving snooze-worthy sound bites lately!
Like when it comes to dishing on those gay rumors or when it comes to chatting about his ex-GF and Abduction costar Lily Collins. Both of which come up in Tay's recent interview with GQ Australia.
Let's get to Lily first. Is Taylor taking a page out of Kristen Stewart's book and coming clean on the relationship front?
Nope. Even though the twosome are now kaput, Taylor is still staying totally hush hush about his former lady.
"Liz says I don't talk about my personal life," Tay laughs, channeling his publicist Liz Mahoney.
Ugh, no fun, T.L.! But does this mean if Lizzy wasn't in the picture you'd totally be down to give us the 411? Not sure if you heard, Tay, but dishing on your love life is totally in right now. Just ask Kristen Stewart and Robert Pattinson when you bump into them doing Breaking Dawn press.
Anyway, what's with the rumors about our hunky Tay being (gasp!) gay?
Well it all started when he was spotted grabbing dinner with out and proud Hollywood tycoons Gus Van Sant and Dustin Lance Black (remember them from the flick Milk?).
"It's not a coincidence that there was a writer, a director and an actor at dinner," Taylor pooh-poohs.
Touché, Tay! But then he was asked if any of the fellas hit on him: "No, definitely not," Taylor attested. "I think they know I'm straight. But they're great guys. They're a lot of fun."  
Well hopefully the dinner conversation was more entertaining than these convos—but we're sure it was!