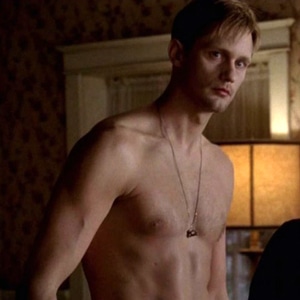 HBO
Alexander Skarsgård is over the naked question.
He doesn't understand why American's make such a fuss over his willingness to strip for the cameras.
"[Parents] in the States freak out if their kids see a nipple or a butt cheek, but at the same time they're OK with their kids watching people bash each other's heads in with baseball bats," the True Blood star told Out magazine during a joint interview with fellow Swede music video director Jonas Åkerlund.
"I notice in interviews in the U.S. all people want to talk about is nudity," Skarsgård says. "You have a half-hour interview, and you spend 25 minutes talking about the nude scenes, and of course, if it makes sense as a scene, I'll do it."
Skarsgård and Akerlund also talk about the recent emergence of Swedish musicians in the U.S.
Skarsgård reasons it's because children are "encouraged to play an instrument, or to sing and be creative, from a very early age, and it's free."
He says many take advantage of Sweden's cold dark winters by playing music in their garages for five months.
Åkerlund joked, "That's the boning season. And then it's spring, and that's also boning season. And summer's the best boning season."
Skarsgård added with a laugh, "And that's also why we're so liberal and cool with our sexuality—because we f--k a lot."
And he wonders why we always want to talk about the naked stuff.