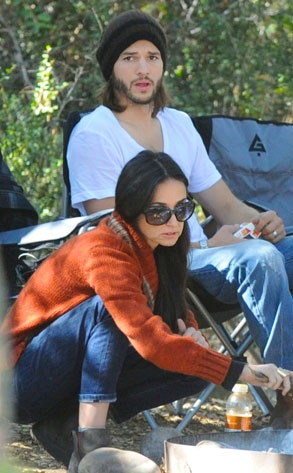 NATIONAL PHOTO GROUP
It seems like Demi Moore and Ashton Kutcher may be trying to patch things up.
As the couple continues facing allegations that the Two And a Half Men star cheated on Moore on their sixth anniversary...
They were spotted on Friday night at the Kabbalah Centre in Los Angeles for Yom Kippur services. They sat in the same row but across the aisle from each other because men and women are separated during services, but they left together.
And now comes word that they were camping yesterday at Cachuma Lake in California's Santa Ynez Valley. Photos have surfaced of them together at the campground, but what exactly went down is unclear.
The two are seen in one picture sitting around a campfire—but they aren't alone. With them, according to a source, were Kutcher's brother, Michael, and celebrity florist Eric Buterbaugh, a close friend of the couple who did the flowers at their wedding.
Reps for the couple have not commented on their relationship.