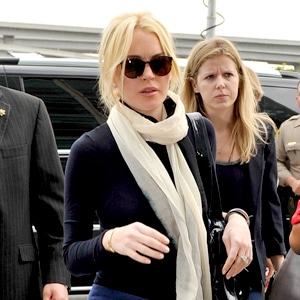 Toby Canham/Getty Images
At least Lindsay Lohan has the whole getting-dressed-for-court thing down.
The struggling star has been sued again (though, good for her, it's been a little while) for allegedly racking up a nearly $100,000 bill with a limo service and never paying.
So, what does Lindsay have to say about this?
Her rep told E! News yesterday, "Lindsay has not been served with any lawsuit, and we cannot comment on a lawsuit we have not yet seen."
Oh, but it's coming, according to the plaintiff.
Attorney Laurie Rau of Chavos & Rau PLC has confirmed to E! News that Elite Transportation Limo and Security Services filed suit against Lohan and Tri-Star Entertainment in Orange County Superior Court for extensive unpaid services, including chauffeured transportation and private security in California and beyond.
Elite company has made efforts for months to contact Lohan to resolve the issue, but did not receive a response from the actress or Tri-Star, who owe Elite roughly $100,000, according to Rau. If she hasn't received the papers yet, she should be getting them any time now, the lawyer added.
And just how did Lohan spend that much on rides?
Per the suit, Lohan booked limos for her friends and family and used the service herself between February 2009 and May 2009.
With a rate that reached as much as $6,000 per hour, including bodyguards, Lohan allegedly racked up $33,978 in unpaid charges. Her tab now comes to $90,585.79, including penalties and late fees.
In the meantime, Lindsay's rep had no comment on a RadarOnline report that the Mean Girls star, fresh from a photo shoot in Italy for Phillip Plein, plunked down $80,000 for a new Porsche.
Well, at least she'll save money on drivers that way.
UPDATE: A court clerk confirmed Nov. 9, 2012, that the two sides had reached a settlement.
—Reporting by Holly Passalaqua