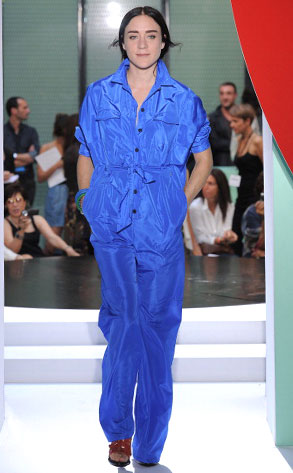 Nathalie Lagneau/Catwalking/Getty Images
Chloe Sevigny really suffers for her art. At least Joan Rivers is feeling the pain after getting a glimpse of the Big Love star strutting her stuff in Paris.
(The actress turned Opening Ceremony designer and now Kenzo model went with dark hair and Frida Kahlo-worthy eyebrows for her walk down the runway.)
"The orange jumpsuit means they're dangerous, the red jumpsuit means they're crazy, and the blue jumpsuit means they throw their s--t at the guard," quipped the Fashion Police host of Sevigny.
And that's not all. The hostess with the mostest talks Goodyear Blimps, WASPy sex, racing stripes and more!
So click in and get all of Joan's jokes that didn't make it on air in our sassy sartorial photo gallery.