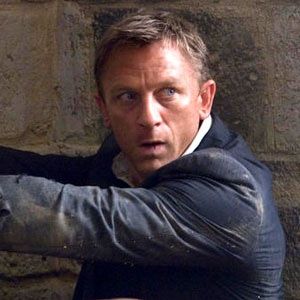 MGM/Sony Pictures
The name's Bond, James Bond...Skyfall?
So it would seem—that is, unless Sony and MGM, the studios behind the forthcoming installment of the 007 franchise (so far rather uncreatively referred to as Bond 23) have launched into a particularly long (and pricey) con with the fans and bloggers who chronicle their every preproduction step.
We don't expect you to talk, Mr. Bond. But we'd certainly appreciate it if you did.
For now, everyone involved in the project is keeping mum on the would-be title. But here's what we know—and, just as importantly, why we think we know it…
First of all, Bond 23 has been titled. That title simply hasn't yet (officially) been unveiled to the public. No less an authority than Daniel Craig himself revealed that information to a CNN reporter last month.
So there's that.
And Skyfall's downfall—at least in terms of the studio maintaining its secrecy—seems like it can be traced back to the studios' insistence that they beat cybersquatters to the online punch.
The eruption of headlines trumpeting Skyfall as the film's title can be traced back to WhatCulture.com, which reported that a brand protection company hired by Sony has been busy buying up an untold number of URLs, all of which feature some combination of the words "James Bond" and "Skyfall."
A sampling, per the site: jamesbond-skyfall.com, skyfall-film.net, skyfall-thefilm.com, skyfallthemovie.com, jamesbondskyfall.net, and so on.
As if that weren't enough, SonyPictures.com's domain name also had Sky-FallMovie.com and various other similar names registered directly to them back in August, which would fit in the timeline of when the studio likely decided on a name.
Many fans and critics are already embracing the title, whether it proves the official one or not, calling it Flemingesque, as it's a return to the one-name titles used in many Ian Fleming-based stories, like Goldfinger, Thunderball, Moonraker and, of course, Octopussy.
Meanwhile, those who are less than convinced as to the name's veracity, however, have been quick to point out that the title bears no relation to either a Fleming work or any other story from the Bond canon.
So the final verdict? Well, until the studio issues a press release, it all remains speculation. Now, if only there were some kind of super spy who could get to the bottom of this…