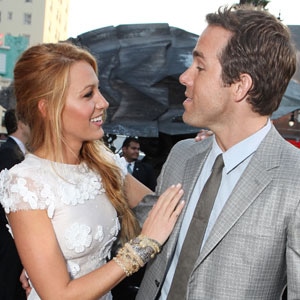 Eric Charbonneau/WireImage
Ryan Reynolds and Scarlett Johansson were a pretty hot-looking couple, and Blake Lively and Leonardo DiCaprio weren't bad either, for that matter.
So what about Reynolds and Lively?
Heck, yeah!
As we told you earlier this week, the Green Lantern costars were spotted on Friday on an Amtrak train from New York City to Boston.
The following night, they reportedly had dinner for two at a Beantown sushi restaurant.
Well, guess who were very lovey-dovey on Monday while waiting for a train at Boston's Back Bay station.
You got it: Reynolds and Lively.
It may have been the wee hours of the morning—it wasn't even 5 a.m. yet!—but so what? A source confirms they were making out and "all over each other" before Lively boarded the train for her return trip to NYC. Reynolds stayed in Boston to continue filming R.I.P.D. HollywoodLife.com first reported the smooch fest.
Reps for the maybe-lovebirds did not immediately comment for this story.
We can only imagine what the Gossip Girl starlet was told when she had a Tarot card reading yesterday while she visited the Renaissance Hotel and Madame Tussauds' Dare to Check In Halloween suite.