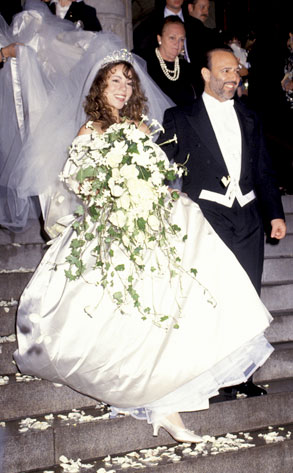 Ron Galella/WireImage
Our countdown to Kim Kardashian and Kris Humphries wedding special continues as we celebrate some of the most memorable celebrity unions ever.
Next on the list of notable nuptials is the ritzy wedding of Mariah Carey and Tommy Mottola…
When: June 5, 1993
Where: New York's St. Thomas Episcopal Church, followed by a reception at the Metropolitan Club
On the List: Family and friends such as Robert De Niro, Barbra Streisand, Ozzy Osbourne and Bruce Springsteen
Can't Top This: Mimi's beau and boss, Sony Music head Tommy Mottola, swept in like Prince Charming and gave her a lavish $500,000 wedding fit for a pop princess. The royal comparisons make sense considering the singer reportedly studied Prince Charles and Princess Di's big day to replicate the regal affair.
The result? A wedding party that included 50 flower girls, a $25,000 Vera Wang gown and 27-foot-long train modeled on Diana's epic headgear. And just like the late princess, Mariah needed several ladies in waiting to help her make it down the aisle.
Given that she filed for divorce four years later, it makes sense that she kept things more lowkey the second time around—secretly swapping vows with Nick Cannon in the Caribbean in 2008.
And, a couple of rugrats later, subtlety seems to have paid off for this happy couple!