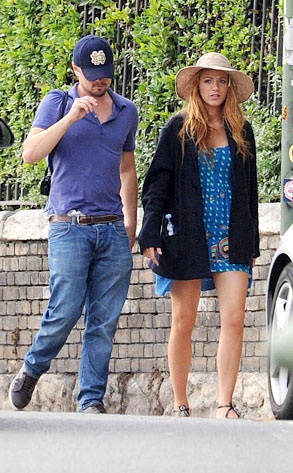 INFdaily.com
We thought Blake Lively might be the one to tame Leonardo DiCaprio's single-guy ways, but it looks like this summer love couldn't stand the changing seasons. The gorgeous twosome, who first stepped out together at the Cannes film festival, have officially called it quits.
So what exactly went down between the two? A source says distance and timing caused the split, though once upon a time the pair seemed perfectly in sync.
Let's take a walk down memory line, shall we? Romance rumors first began swirling on a yacht in the south of France...
May 17, 2011: Only days after reports emerge that he'd split with longtime model girlfriend Bar Refaeli, Leo gets cozy with Blake on a yacht in Cannes. But this wasn't the first time they met. The two reportedly were introduced at a dinner last November for potential castmembers of The Great Gatsby.
May 23, 2011: A week later after the film fest wrapped, the new couple continues their travels together and are spotted strolling the streets in Portfino, Italy. Could this be amore?
May 31, 2011: After another romantic weekend with Blake in the French Riviera, it was back to business. Leo returned to work on the set of his latest film J. Edgar.
June 3, 2011: Later that same week, the couple popped up at one of the most magical places on Earth: Disneyland! The twosome and pals entered the park via private entrance and enjoyed private rides, but this isn't Blake's first time on a Disneyland date. She also hit the theme park with Ryan Gosling.
July 22, 2011: Despite buzz that they'd split, the couple is spotted shopping at Solstice Sunglass Boutique in downtown Santa Barbara. So much for trouble in paradise.
August 2, 2011: Time for the twosome to take their relationship to another coast. This time, they were snapped on an eco-friendly romantic bike ride in New York City.
August 30, 2011: Blake is clearly willing to go the distance (literally) for her love and jets Down Under to visit Leo on set in Sydney. During downtime, the animal lovers take a VIP tour at the Featherdale Wildlife Park where they got up close with koalas and dingos. This is the last time we see them together in public.
October 4, 2011: Split rumors swirl again, but this time, they're true. Sources confirm to E! that the couple have called it quits the very same day reports pop up about Blake spending quality time in Boston with Ryan Reynolds.