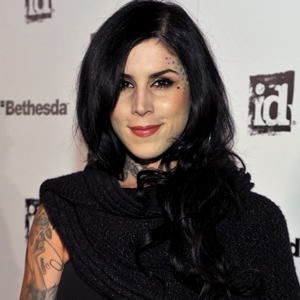 John Shearer/WireImage
Kat Von D's rocky relationship with Jesse James should make for some pretty juicy songwriting material.
That's right, the recently single again LA Ink star is currently recording her first music album...
"I've been passionate about music all my life," Von D told E! News this weekend at the Rage video game launch in Los Angeles. "I've been playing classical piano since I was six. So I understand the form, but it will be fun to be able to translate a message."
But what does the famed tattoo artist know about making music?
"I think it's much like tattooing or the TV show or makeup, my clothing line, fashion," she said. "All those things, they're just different outlets to be able to be creative. So music, I think it's going to be one of those things."
As for the sound, Von D says it will be "more on the dark, more tragically romantic" side. Depeche Mode and the Cure are among her favorites.
Watch out, Jesse!
—Reporting by Chris Hall