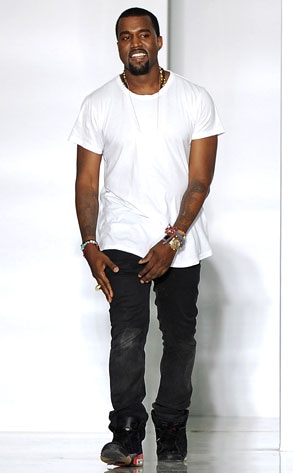 Pascal Le Segretain/Getty Images
Kanye West can now add designer to his résumé.
The outspoken rapper surprised everyone last night when he debuted his very first women's collection at Paris Fashion Week to a house packed with celebrities, models and designers.
Lindsay Lohan, Mary-Kate and Ashley Olsen, Bar Rafaeli, Anna Wintour, Jared Leto and supermodels Karlie Kloss and Chanel Iman were all in attendance to check out his line DW by Kanye West (in memory of his late mother, Donda West).
Interestingly enough, despite the star-studded audience, Kanye insisted he doesn't "f--k with celebrities" during an afterparty at Club Silencio...
Pascal Le Segretain/Getty Images
Ye took the mic at the soiree to share his thoughts and ask for the critics to go easy on his first design efforts.
"This is my first collection. Please be easy," West pleaded to the crowd, according to WWD. "Please give me a chance to grow. This is not some celebrity s--t. I don't f--k with celebrities. I f--k with the creatives in this room—the amazing people who spend every day of their life trying to make the world a more beautiful place."
Designer Jeremy Scott said that this was not your typical celeb clothing line. "Everyone probably thought it was going to be another like Jennifer Lopez's Macy's line and it's not. It's really clear it's not," said Scott. Burn!
Kanye also revealed that he took out loans to make his line a reality.
""Thank you for anybody that didn't believe, because they motivated us to break our boundaries," he said. "We don't know what the reviews will be, we don't know what they will say, but I got a chance to go to Italy and feel those fabrics. I begged Louis Vuitton to let me do more shoes after my shoes sold out in two weeks, and they did not. I begged Nike, I begged this company to let me do it. And I took out motherf--king loans to get the best models, to get the best designers, to get the best venue. I gave you everything that I had."
So what was the word? Depends on who you ask.
AP called it "sophisticated and highly designed," while WWD deemed it "neither triumph nor trainwreck."
Singer Ciara was more effusive in her praise, tweeting: "KANYE is A GENIUS- TONIGHT was MONUMENTAL."