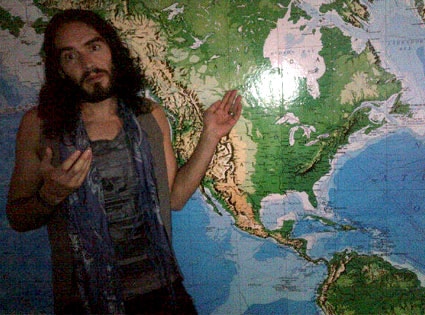 yfrog.com
Looks like Rosie O'Donnell may be the only one welcoming Russell Brand with open arms!
The British comedian was forced to postpone his comedy show in Canada after being denied entry into the country Saturday. 
The funnyman tweeted, "HELP! I'm gonna be late for Casino Rama show unless someone can force Canadian customs officials to let us land in Orillia!" while apparently still in the air en route to the show.
Brand, ever cheeky, then tweeted, "How do you manipulate customs officials? Wasn't Hitler's father a customs officer? I'm pretty sure he was." Things clearly were not going well with the comic who implored the border bureaucrats, "Let me in! I must perform at Casino Rama, Orillia tonight at 9 for 5,000 Canadians."
Brand ended his Twitter banter in defeat: "Tonight's Casino Rama show postponed. I'm sorry. I can't enter Canada. We must abolish the borders between our nations AND our minds." 
The exact reason for barring Brand, who was denied entry into Japan earlier in the year, is not known.