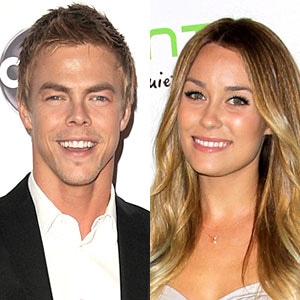 Steve Granitz/WireImage.com; Noel Vasquez/Getty Images
Talk about making beautiful babies together—that is if things get serious between Derek Hough and Lauren Conrad.
Yup, I just got word that...
There's a romance brewing between the Dancing With the Stars hoofer and former queen of the Hills. "They've been on a few dates together," a source says.
Just last night, the two raised eyebrows when they hit Jason Scoppa's weekly live music show at the Sayers Club in Hollywood.
"They were pretty cozy. Definitely playful and flirty," reports a fellow clubgoer.
How so?
"They were close to each other," the source explained. "He had his arm around her waist. They were dancing and also holding hands."
When they left, the paparazzi snapped away, but the two didn't stand too close together. A big burly security guy also stood in front of them to try to block the shots.
Conrad most recently ended a long relationship with actor Kyle Howard in June, while Hough was linked to former X Factor judge Cheryl Cole.
Reps for Hough and Conrad didn't comment.
Now we want to hear from you. Do you think Derek Hough and Lauren Conrad make a good couple? Chime in below.