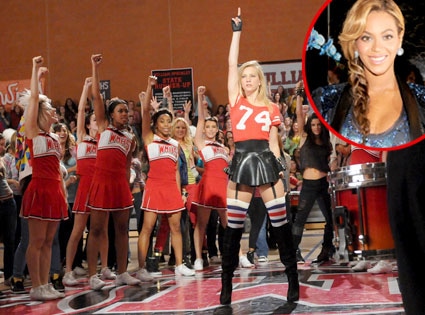 Mike Yarish/FOX; Kevin Mazur/WireImage
Warning: The video you are about to witness may give you an uncontrollable urge to jump out of your chair and dance. Do not attempt to watch it while operating heavy machinery. Or avoiding smile lines.
As (what we hope you agree is) further proof that this Tuesday's episode "Asian F" might just be the "best ever," we have your exclusive first look at a knockout performance by Heather Morris' Brittany:  Beyoncé's "Run the World (Girls)!"
Could it be Morris' best Glee showing yet? It certainly ranks up there. See for yourself…
It's almost hard to believe at this point that Morris started off as a background dancer, 'cause every moment she's singing and dancing on Glee is as magical as the cotton candy she says comes out of a unicorn's...well, you know.
We also know from this clip that the race for senior class president is going to be fierce, and Kurt Hummel (Chris Colfer) is rightly shaking in his combat boots.
Who are you voting for? And what can Kurt possibly do now to stand a chance?
Discuss.
And don't forget to tune in to Glee this Tuesday on Fox. In case we didn't mention it, it's like, you know, good and stuff.