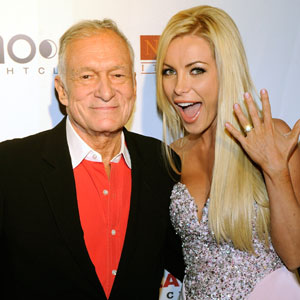 Courtesy Ethan Miller/Getty Images for Palms Casino Resort
Crystal Harris is delivering another slap in the face to Hugh Hefner.
First she dissed him for his "two-second" sex with her. Now, she's now putting the ginormous engagement ring her bought her up on the auction block at Christie's.
And she's expected to rake in some serious cash for the bauble.
The 3.39-carat diamond sparkler is expected to sell in the $20,000-$30,000 range.
Not a bad consolation prize.
Back in June, instead of marrying the Playboy honcho, cover girl Harris jetted to Las Vegas, where she posed in a bikini at a pool party and lounged in a bungalow.
"Today is the day and I just had to get away." she told E! News at the time.
Harris claimed that the decision to not marry Hef was a mutual one (although their later comments belied that) and that she would be returning her engagement bling.
"I'm giving Hef back the ring," she had said. "I just want to move forward."
So much for the polite return.