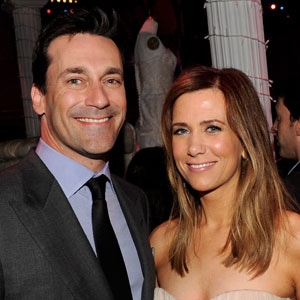 Kevin Winter/Getty Images
It's no secret that a Bridesmaids sequel is definitely a possibility.
Director Paul Feig has even said that there was talk of a followup even before the movie opened.
However...
The movie's driving force, Kristen Wiig, may not be on board.
"I don't think Kristen is going to do it," says Jon Hamm, who played the Saturday Night Live funnylady's douchy friend with benefits in the raunchy comedy.
Asked if he's interested in reprising his role a second time, Hamm tells me, "They need to lock [Wiig] up before me."
A few days after Bridesmaids opening weekend, Feig told New York magazine, "[W]hen you get a group that's this deep and this good, it's a crime to not use them again. You just want to make sure that you do it as well as you did the first one and try to make it better, even. So, we're up for the challenge."
Melissa McCarthy said at the time, "I will show up wherever these guys tell me to go. If it's a play in their backyard, I will gladly do it. I'll do kids' parties for them, I'll do bar mitzvahs; I'm in."
Wiig joked with Digital Spy that Bridesmaids 2 could be centered around a divorce party.
Not that Hamm doesn't think Bridesmaids is an awesome movie. "I had a feeling that it was going to be a great movie," he tells me. "I have ultimate confidence in Kristen to be funny. I was pleased to see that they were able to make the movie with the amount of heart that they did. It's a funny movie, [but] also at the end of the day it's a very sweet film."
We couldn't agree more.
Now we want to hear from you. Wanna see another Bridesmaids movie? Sound off below.