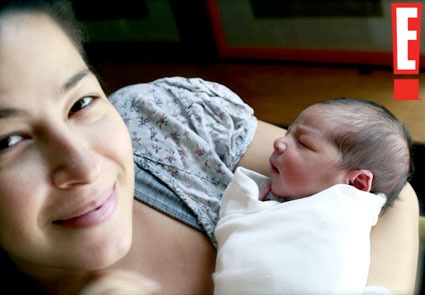 This is Rebecca Minkoff's finest creation yet!
The clothing designer and actor husband Gavin Bellour are showing off cute-as-a button baby boy Luca Shai Bellour to E! News exclusively. Luca shares mommy's brunette locks and looks peaceful in her arms.
So what's Rebecca saying about new little guy?
"Mommy and daddy are so in love with the little Minkette, Luca Shai Bellour," the designer tells E! News. (Minkette is how she refers to her loyal followers.)
Minkoff is fresh off of New York Fashion Week, where she debuted her Spring 2012 collection (not to mention her baby bump) to an adoring crowd, including Chris Pine, Angela Simmons and Sophia Bush, all of whom sat front row for the show.
Rebecca gave birth on Sunday to the little guy, tweeting: "I just pushed a 6 lb. 14 oz baby out! OMG I can't believe this is done!"
She later posted a picture of her hubby and baby on Twitter saying: "The cutest family in the world."
The designer is actually launching a new sunglasses collection tonight in New York, but we're guessing will probably be skipping the festivities.
Congrats to the happy family!