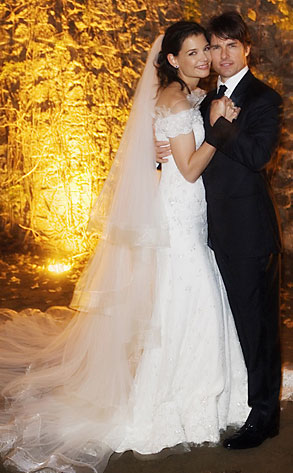 Rogers & Cowan/Robert Evans
The countdown to Kim Kardashian and Kris Humphries wedding special is on! Meanwhile, we've got more marital bliss to celebrate with the 10 best celebrity weddings ever.
Each has a special reason for making the list—from the most beautiful to the best-kept surprise. So let's kick things off with Tom Cruise and Katie Holmes' medieval-style celebrazione di matrimonio:
When: Nov. 18, 2006
Where: Italy's 15th-century Odescalchi Castle
On the List: Family and friends like Jennifer Lopez, Marc Anthony, Will Smith and Jada Pinkett Smith and Church of Scientology leader David Miscavige, who served as Tom's best man.
Can't Top This: TomKat's big bash cost an estimated $3.5 million But forget about the three days of festivities, fireworks display and bold-faced names in attendance, (such as celebrity tenor Andrea Bocelli who serenaded the happy couple).
All eyes were on sweet little 7-month old Suri, who was the real VIP of this wedding. Clad in custom-made Armani, natch, the junior fashionista was carried in the procession by big brother Connor.
And reportedly charmed guests by cooing during the ceremony. The day after the ceremony, Suri hopped a private jet with her newlywed parents and 40 pieces of luggage to enjoy a balmy honeymoon in the Maldives. 
Salute!