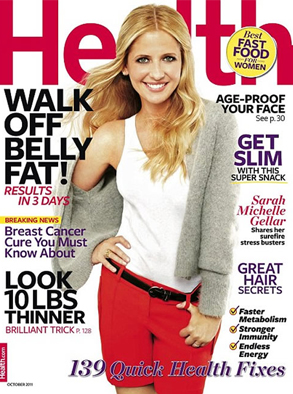 Health Magazine
Another reason celebs are just like us? They obsess about their bodies! And, maybe, sometimes...they exaggerate.
"Oh God...I'm a female!" exclaimed Sarah Michelle Gellar in an interview for Health magazine when she was asked if she has insecurities. "I totally have body dysmorphic disorder. I think most women do."
Gellar's remarks have made more than a few bloggers and blog readers wonder whether the Ringer star wasn't over-qualifying her more or less normal insecurities—and if she was, then she shouldn't be making light of a serious condition.
Do Gellar and "most women" really suffer from BDD, a psychological disorder in which their obsession with an imagined flaw can cause severe depression and anxiety?