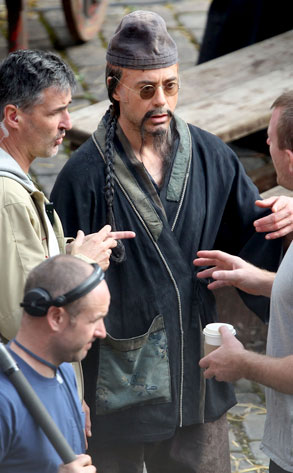 Flynetpictures.com
First a lipstick and bonnet, and now granny glasses and a Fu Manchu!
Robert Downey Jr. is playing quite the quick-change artist in the upcoming Sherlock Holmes: A Game of Shadows, which apparently finds the brilliant detective in multiple situations when a disturbing disguise is in order.
In this scene, Downey dons a traditional Chinese robe, a long braided ponytail and elaborate facial hair to, er, blend in when his investigation takes him to an Asian marketplace.
Rachel McAdams, who was also on the set at the University of Greenwich's Royal Naval College in London, was just wearing her boring blue Irene Adler dress. She looked so ordinary.
Sherlock Holmes: A Game of Shadows, also starring Jude Law and Noomi Rapace, hits theaters Dec. 16.