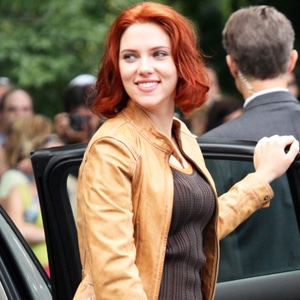 Richie Buxo / Splash News
An artist is plastering naked photos of Scarlett Johansson in the streets! Haven't those images been stolen? Does he want to get arrested?!
—Flayva, via the inbox
As publicity tactics go, getting arrested is a fine strategy, right up there with a leaked sex tape or a staged paparazzi photo op with a paid beard.
At the risk of giving this artist still more publicity, I shall answer your question, which is:
Nobody is going to get arrested.
Or, more accurately, an arrest of anyone is quite unlikely. Yes, the FBI has confirmed that the matter of the titty-licious cell phone photos is under investigation. And Johansson's legal team has sent stern warnings to several news outlets claiming that the photos were stolen and to refrain from publishing them. So a crime has, apparently, been committed, at least in the stealing of the photos from the actress.
As for the artist, yes, he has confirmed to our own E! News team that he plans to use those same images in a series of street art installments.
The art uses strategically placed stickers to cover Johansson's naughtier bits, and has already been put up in at least one location in Los Angeles, outside a vacant Hollywood Video store. The unnamed artist, who works under the name XVALA, told our team that he is prepared for a legal fight.
"We're prepared for it," says Cory Allen, XVALA spokesperson. "I've received a cease and desist letter, but they're never acted on when it's claimed as an art piece. There are a lot of hacked photos out there."
As for what kind of legal fight might ensue from all this, the answer is, probably, not much. The artist likely didn't hack those photos himself, and he can't hope to make an obscene profit from putting up posters outside vacant video stores—that is, a profit that ScarJo could pursue in court.
Also, art tends to get special protection in the United States, even if an original image is copyright. (In 2009, the Associated Press sued artist Shepard Fairey over his iconic "Hope" series featuring an altered AP photo of Barack Obama. The case dragged on forever before a settlement was finally reached, but both sides still insist they were on the right side of the law.)
"The law in the United States leans toward free speech and artistic freedom," says attorney Jason Feldman of Feldman & Wallach.
The fact that the photos are copyright and stolen "does complicate the matter, but it would depend on how much the photo is altered and how much a reasonable person would feel her privacy was invaded."
If ScarJo feels particularly violated, she could sue for invasion of privacy and emotional distress, and maybe even get an injunction forcing the artist to take the posters down. But that could create even more headaches for the actress.
"Her attorneys would have to balance the likelihood of success, which is not 100 percent, with the possibility of just giving this artist additional publicity," notes Peter Toren, a computer crimes expert and attorney with the firm Shulman Rogers. In fact, unless she could prove that the photos threatened her career or ability to make money, ScarJo would have a hard time squeezing any damages out of the artist.
"Sometimes in these kinds of cases it's best for to just let it go and it eventually blows over."
At least, until the original hacker gets caught. Then it's game on.
—Additional reporting by Sharareh Drury