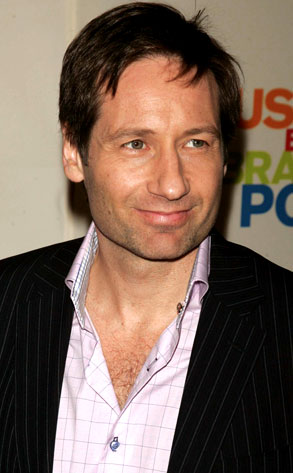 Jim Spellman/Getty Images
The truth is out there, whether we want it or not.
David Duchovny has checked into rehab to undergo treatment for sex addiction, E! News has confirmed.
"I have voluntarily entered a facility for the treatment of sex addiction," Duchovny said in a statement released Thursday by his attorney, Stanton "Larry" Stein. "I ask for respect and privacy for my wife and children as we deal with this situation as a family."
The 48-year-old X-Files star—who, ironically, won a Golden Globe this year for playing an over-sexed struggling writer on Showtime's Californication—has been married to Téa Leoni since May 1997. They have two children together, daughter Madelaine West, 9, and son Kyd Miller, 6.
"All of us at Showtime wish David and his family the best during this very private time," Richard Licata, the network's executive VP of Corporate Communications, said in a statement to E! News.
The second season of Californication, premiering Sept. 28, finished shooting late last month and 12 episodes are ready to go.
Though it may have been awhile, this isn't the first time Duchovny's sex life has turned into a talking point. 
"I'm not a sex addict," he said in an interview with Playgirl in 1997. "I have never been to those meetings. It's hurtful to my family and if I was involved with a woman in a monogamous relationship, it would be hurtful to her.
"There was another story claiming I was a neat freak. If I had to choose one of the two, I think I'd rather be a sex addict. It's not funny and I'll be glad when it goes away."
Uncomfortably enough, Leoni herself quashed a rumor that her hubby was afflicted with a sex addiction back in May of 1998, telling Elle that she found the notion "very exciting."
"David was accused of being a sex addict," Leoni, who had been married for one year at that point, said. "Which I always found very exciting. And then I found out it wasn't true."
"Men are like bulls," she continued. "They gotta get the new cow. Maybe you've got to get the bull after he's had a lot of cows, so you might just be the last new one."
(Originally published Aug. 28, 2008 at 5:27 p.m. PT)