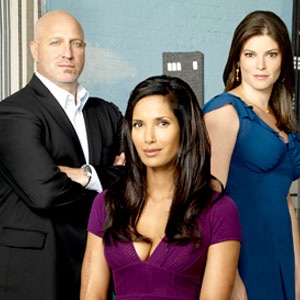 Bravo Photo: Michael Lavine
Top Chef has seen its share of celebrity guests. There's been Adam Levine, Christina Hendricks, Natalie Portman and even Elmo.
The upcoming ninth season, Top Chef: Texas, continues the reality show's tradition of surprising contestants with a star-studded lineup. There's an Oscar-winner, a music icon and more.
Oh, and wait till you hear how many chefs are competing...
Premiering Nov. 2 on Bravo, Texas will include appearances by—drumroll, please—Charlize Theron, Patti Labelle and Paul Reubens' Pee-wee Herman and a bevy of boldfaced culinary names like Cat Cora (one of my favorites!), Tim Love and John Besh.
"It's a good season, a really good season," head judge Tom Colicchio told me at the Emmys. "The drama is good."
Host Padma Lakshmi added, "Lots of drama! Drama, drama, drama! Dramarama!"
"We're shaking up the formula a little bit," judge Gail Simmons said. "We made some changes."
Those changes include two new additions to the judges' table: Emeril Lagasse and Hugh Acheson, who fans may remember competing on Top Chef Masters.
In the true spirit of everything is bigger in Texas, the battle in the kitchen begins with—ready for this?—a record 29 chefs.
And it wasn't only hot in the kitchen. "Honestly, we were like, 'Oh my god! It's 105 degrees!'" Lakshmi said of shooting over the summer in the Lone Star State. "But it wasn't every day. Sometimes it would do down to like 98 degrees."
P.S.: Perhaps I can get Colicchio to spill some scoopage next month when he comes west for the Los Angeles Food & Wine festival. Kicking off Oct. 13, the epicurean extravaganza features appearances by more than 100 celebrity chefs, including Wolfgang Puck, Giada de Laurentiis, Tyler Florence, Thomas Keller and Daniel Boulud.
Yummy.