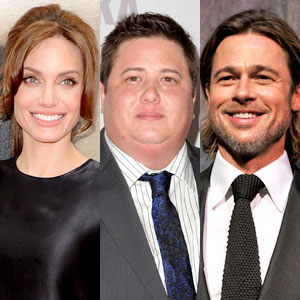 Jon Kopaloff/FilmMagic; Angela Weiss/Getty Images; George Pimentel/WireImage
Brad Pitt, Angelina Jolie and Chaz Bono should be used to being talked about in the media.
But a Fox News medical contributor took things to a new low by using what Bono once told me about Angelina Jolie and Brad Pitt's daughter Shiloh to bash him and his appearance on Dancing With Stars.
Here's what went down...
I interviewed Chaz Bono back in May when his memoir, Transition, and documentary, Becoming Chaz, were released. When I asked him about gender identity issues getting more attention in the media because of Shiloh's choice to dress more boyishly, Bono said, "I would love to talk to [Jolie and Pitt] at some point, to at least let them know we have this resource for them if they ever need it."
Fast forward to this week. Dr. Keith Ablow, a psychiatrist and Fox News contributor, appeared on The O'Reilly Factor to urge parents not to let their children watch DWTS because of Bono.
Ablow claimed that Bono "actually asked to speak to Brad Pitt's daughter Shiloh because she dresses like a tomboy and said, 'I could be of use to her.'
"For what could you be of use, Chaz?" he snarled. "To convince her that when she develops breasts she should cut them off?"
That's quite a leap, Dr. Ablow.
O'Reilly, to his credit, challenged him for his "harsh" assumptions. "I'm not so sure he's as militant as you're portraying him," O'Reilly said, adding that Bono's visibility could "be a positive for parents to discuss this with their children."
We think Bono would agree. "I see myself as just somebody who's gone through the process," he told me. "For me, part of the way that I got through my fears is by reading books and seeing documentaries of people who transitioned before me. So I look at myself as one of those people who are just out in the community and the difference is that I just have a little bit of a larger reach."
If only that reach could get through to Dr. Ablow.