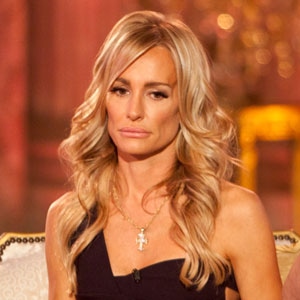 Isabella Vosmikova/Bravo
Taylor Armstrong's first interview in the wake of her estranged husband Russell Armstrong's suicide was always going to be dramatic. And heartbreaking. But we weren't expecting it to be so honest.
In a sitdown airing tonight on Entertainment Tonight, in addition to delivering what's being billed as a "minute by minute" account of her experience of the suicide, the widowed Real Housewife of Beverly Hills also details some shocking allegations of abuse against the father of her child.
In one particularly harrowing instance, Taylor recalled, "He grabbed me by the neck and shoved me up against the wall, and he said, 'If you ever make my children a pizza without a vegetable again, I'll kill you.'"
In between tears, the reality star—who conducted the interview from the same Beverly Hills home she shared with Russell—told ET of yet another example of when his violent ways made her fear for her life.
"He would grab me by one side of the hair on my head, and bang the other side of my head against the car. He would say to me, 'I'm afraid I'm going to kill you one day.'
"The first time he ever really harmed me physically, I was pregnant with Kennedy and he grabbed me by the throat and held me against a wall...I saw his ability to go from zero to 60 that quickly."
As for the inevitable question from critics who may condemn her for lobbing such damning allegations against a man who isn't around to defend himself, she had an answer ready:
"He doesn't need my protection anymore, but there are a lot of women in this world who probably do," she said.
"You live your life constantly on egg shells waiting for the other shoe to drop. You don't know if you're gonna talk to your girlfriend too long at dinner, and that's going to cause someone to fly into a rage...I don't think he saw himself as an abuser until the last time that he hurt me, when I finally ended our relationship."
She also took time during the obviously emotional interview to rehash the day she discovered Russell's body in his shared Mulholland Drive home. Along with a male friend, she and daughter Kennedy were present when the body was found.
"As I was laying in the street screaming, I realized that my little girl was there," she said through tears. "And I had to pull it together and get her out of there."
As for how she explains the suicide to her 5-year-old, "I just told her that daddy got sick and he died, and that we could pick a star in the sky to be daddy, and she could talk to him every night."
We have to assume, as well, that the full interview will also delve into her feelings about The Real Housewives of Beverly Hills, which last night aired the third episode of the new season.
While Bravo has edited out significant chunks of Taylor and Russell's storyline out of respect, it seemed to be back to an all-too-real reality last night, with much of the episode focusing on Taylor's downward spiraling and continual breakdowns, a result, she confided to Kyle Richards last week, of difficulties in her life and marriage.
This week, Taylor began by apologizing to Kim Richards for her behavior last season before acting out that long-previewed moment of weepingly climbing into Kyle's suitcase, buried deep within her closet, and covering herself with towels.
Not long after she was finally coaxed back to her room, more paranoid and concerning behavior followed, this time in the form of Taylor losing her makeup bag and subsequently exploding at each of the housewives.
Concerned, her housewife friends aired their worries over her behavior, with Adrienne Maloof going so far as to openly tell Armstrong she believed she was having a nervous breakdown.
"Come on! Pull it together, seriously," she told Taylor in her tough-love way.
Taylor, for her part, put most of the blame of her behavior down to empathy, telling Camille Grammer at the start of dinner that she was simply upset over her and Kelsey Grammer's own marital disintegration.
However, her bouts of crying continued throughout dinner, and at one point, after Adrienne suggesting that two happy homes were better than one miserable home, Taylor even noted that she was worried about "the safety of her daughter."
Is it possible for a reality show to feel too real?