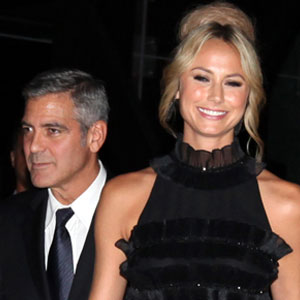 Macca / Todd G / Splash News
Stacy Keibler and Elisabetta Canalis have more in common than being the object of George Clooney's affection (at some point).
Both babes have put on their dancing shoes to tango on Dancing With the Stars.
Stacy was a contestant on the second season of ABC's hit show and took home third place, so I got the leggy girl's advice for this season's current competitors when I caught up with her last night.
What were Stacy's words of wisdom?
She said you've gotta stay focused at all times.
"You can't stop thinking about the dance," she told me at the Appleton Estate Reserve bartender challenge last night. "When you're sleeping, when you're cooking, when you are doing whatever you are doing. I think it is important that you put all that hard work into it and when you go out there, you just have to let it go and have so much fun and really try to entertain the crowd and just have a great time."   
Stacy says she didn't decide on any front-runners just yet since the series hadn't premiered yet when we chatted during the bartending bash at Hotel Chantelle.
The bubbly blonde is keeping mum, however, when it comes to her romance with George.
When I asked her how it felt to be dating one of the sexiest guys alive, she said, "I'm not going to talk about that."
But Stacy's got more on her plate than just accompanying George on Italian vacations and to his film festival premiere parties. She's got a movie of her own coming out soon.
"It's a dark comedy," she told me. "I play a little bit of a hoochie in it."
So will George be her plus-one for own her premiere? Stay tuned!