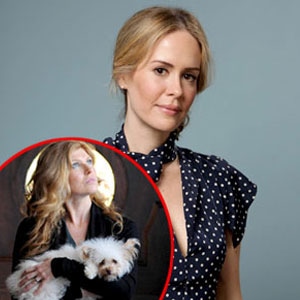 Matt Carr/Getty Images; Robert Zuckerman/FX
So, clearly the family in American Horror Story has something wrong with their house. Ghosts, goblins, angry spirits dressed in latex…until we see more episodes, we don't know what they're dealing with. If only someone would come along to help them with their afterlife issues.
Enter Sarah Paulson, Golden Globe-nominated actress from Aaron Sorkin's short-lived Studio 60 on the Sunset Strip. How will she be helping the Harmon family? We've got the exclusive details…
A reliable AHS source tells us that Paulson, who also played the nasty governess in Deadwood, is joining the show for a big four-episode arc as a medium named Billie Dean. Sounds like someone enlists Billie's help to chat with the spirits roaming around that spooky house. But we don't think it's Vivien (Connie Britton) who wants her help.
Most of her scenes will be opposite her Broadway buddy Jessica Lange (they starred together in The Glass Menagerie). Paulson and the sure-to-be Emmy-nominated Lange together on your TV screen? It's like a perfect storm of acting awesomeness.
Now comes the best part…speculating! AHS is one of the most talked about new shows of the season, so let's fuel the fire by discussing Paulson's role in the comments.