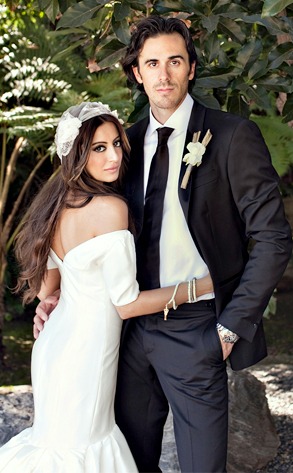 Courtesy of Ryan Miller
A week after attending Kim Kardashian's wedding extravaganza, I had the pleasure of watching another high-profile couple tie the knot.
My pals Ryan Miller (the Buffalo Sabres goalie) and actress Noureen DeWulf got hitched at the Sunset Tower hotel in West Hollywood. I like to see fellow goalies happy, especially ones who are great guys like Ryan, and you can tell from the pics it was an amazing day for him. (For the fashionistas out there, Noureen scored in Carolina Herrera and Ryan saved the day in a Varvatos tux.)
In the world of NHL hockey, it was a star-studded wedding. Guests included players John Michael Liles, Tim Connolly, Adam Hall, Paul Gaustad, Pat Kaleta, Derek Roy and Ryan's agent, former NHL great Mike Liut. Longtime Miller family friend and actor-director Tim Busfield didn't dress up like his character Poindexter from the '80s classic Revenge of the Nerds, but the fact that he set up Ryan and Noureen a few years back was enough of a contribution to the night.
I can't wait to see the happy couple again in my hometown of Buffalo on Dec. 4, when I help host Ryan's annual Catwalk for Charity.
As anyone who has been married can surely attest, marriage can sometimes feel like the equivalent of a grueling pro hockey season—only without  summers off. But if anyone can make his marriage a winning one, it's superstar Ryan Miller.