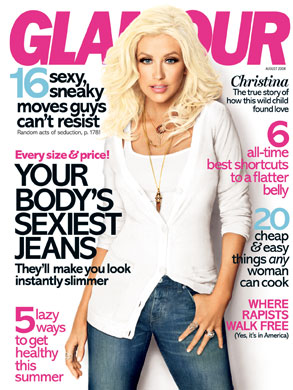 Robert Erdmann for Glamour Magazine
She may be a mom now, but Christina Aguilera still finds time to get back to basics with her hubby, Jordan Bratman.
"We make sure we have Mommy and Daddy nights out," she says in the August issue of Glamour. "Our child comes first, obviously, but there are certain things you can do: Once we know he's in good hands, we go out late at night and have a few drinks. Then we'll come home, dim the lights and do our thing—and I'm not going into any more detail than that!"
Um, fair enough. Then how about sharing some thoughts about a few of your musical peers who have found themselves in a bit of trouble lately?