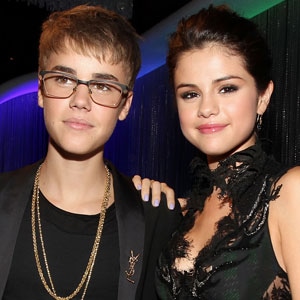 Christopher Polk/Getty Images
Uh-oh, Beliebers.
Just a few months after taking his relationship with Selena Gomez public, could it be that Justin Bieber is already gearing up to tie the knot?
Not so fast.
While the Biebs and Gomez's relationship is still going strong, the Baby crooner isn't ready to elope tomorrow…but he says marriage and kids are definitely in his near future. 
"Well, by 25 or 26, I want to see myself, like, married or start looking for a family," Bieber told Women's Wear Daily.  "I want to be a young dad. I want to be able to have done what I wanted to do — to be successful, to do a movie or whatever. But if the time is right, I definitely want to be married by 25."
But, there's no need for Bieber's die-hard fans to get into a tizzy just yet. 
"One thing — I'm not looking to get married now," Bieber went on. 
Meanwhile, if anyone had any doubts that Gomez is in fact Bieber's ladylove, the Biebs confirmed the former Wizards of Waverly Place star is "[his] girlfriend now," telling the mag, "She's amazing."
The couple, who aren't ones to shy away from PDA, were caught smooching it up most recently at the MTV Video Music Awards.