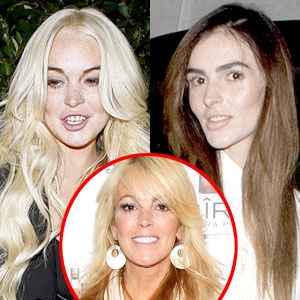 JB Lacroix/WireImage; Splash News; Jerritt Clark/Getty Images
Ali Lohan's mom, Dina, and sister Lindsay, as well as her modeling reps, have all been super busy screaming that the emaciated and greatly altered Ali has not had any surgery.
Good to know, considering the girl's not even of age yet.
But Dr. Robert Rey, who's had decades of experience altering the young, famous and beautiful in Hollywood begs to differ:
Says the good doctor, who prefers to start with the most obvious: "Ali appears to have lost quite a bit of weight, which can dramatically alter a person's face. Cheeks protrude more and [her] overall appearance is somewhat gaunt."
Tell us something we don't know, doc!
"It does appear as if she may have had a rhinoplasty," Dr. Rey, who's in São Paulo participating in the Miss Universe 2011 pageant, reveals. "Because in her photos now, her nose appears narrower and the tip more defined."
Well, if you believe Ali's defenders, including that mother of hers—whose nurturing instincts include tippin' back pricy vino with her Betty Ford graduate daughter Lindsay—Ali's altered appearance is entirely due to "growing up."
Oh, yeah, growth spurts often completely reshape somebody's schnoz, so much so a plastic surgery expert even thinks the poor girl's gone under the knife!
Gotta ask: Is Ali's mother—who's made a career of blaming everybody but herself for her children's woes—now also setting Ali up for disaster? After all, let's get real: She's never done much for Lindsay, other than use her to get into parties.
And if you (stupidly) ask why hasn't Dina learned from her mistakes with Lindsay and stepped in to stop Ali from letting the fame game get the best of her, well, you know the answer: It ain't her fault. Never has been. So don't point the finger at her.
Think Dina's smoking something Lindsay left in her old room, maybe?
—Additional reporting by Kim Cronce