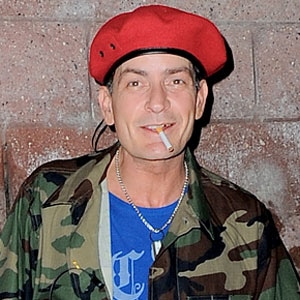 GSI Media
Charlie Sheen may be getting a roast, but his career is definitely not toast.
Despite all the Two and a Half Men drama that eventually led to the actor getting axed from the show, it looks like the guy's still got it—at least in the eyes of a certain director with the last name of Coppola...
Sure, it's not Francis Ford, or even Sofia, but a Coppola family member nonetheless.
Sheen has just signed on to star alongside Jason Schwartzman in an independent film written and directed by Schwartzman's cousin, Roman Coppola, per Variety. The project is his first post-Men film gig.
Titled A Glimpse Inside the Mind of Charlie Swan III, the plotline seems to have shades of Sheen's own life peppered throughout.
According to the trade, the movie centers around a charming, successful graphic designer who's never had trouble getting goddesses ladies. Unfortunately, when his girlfriend breaks up with him, his life spirals horribly downward.
Excited to see Sheen on the silver screen? Sound off in the comments!