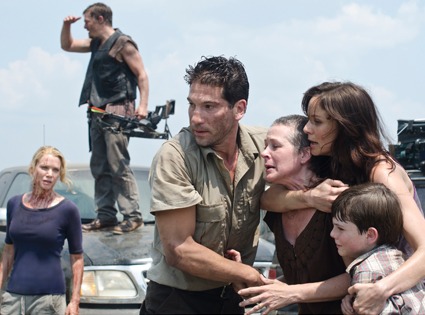 Gene Page/AMC
Just when you thought it was safe to go—well, anywhere—the zombies are back.
The Walking Dead returns Sunday, Oct. 16, and—please don't kill us—we just returned from a special screening of the season-two premiere.
It will blow your mind. And since our own brains are splattered across the screening room, that's all we can say about the 90-minute episode. Sorry. However, The Walking Dead's producers gave us all manner of scoop on the coming season—and how series creator Frank Darabont's abrupt exit affected the show.
First of all, the 13-episode season (a virtual buffet of awesomeness after last year's six-episode appetizer), is going to be split in two. Blame the NFL (but believe us, you'll need the time to recover), because after airing seven episodes, the show will break to accommodate the holidays and football playoffs, and resume again in February with the final six.  
"Season two is jam-packed," said executive producer and Walking Dead comic-book creator Robert Kirkman. "It's a much bigger season than the first season." And new showrunner Glen Mazzara promises that "every episode will land with a punch." (And did they hit hard in the premiere.)
Producers were reluctant to discuss the details surrounding the abrupt departure of original showrunner and series creator Frank Darabont (still credited as an executive producer), but his successor did say this: "I believe in Frank. He's a talented guy— I loved working with him." Mazzara wants to reassure fans worried about continuity: "We did a lot of work plotting this season with Frank," he said. "I think we had such a  smooth transition is because it comes from a fully articulated world. There's no plan to deviate...there's no different vision of the show."
"It wasn't like a palace revolt," EP Gale Anne Hurd said about Darabont's exit. "Frank blessed Glenn as showrunner—and made it clear to the cast and crew that he had his blessing."   
Mazzara says he's "very proud of the season": "Whether we have zombie gags, action, emotional payoff where we're pushing characters...we don't have a bad episode in the can."
EP David Alpert also said producers are paying attention to social media: "We have a very passionate and vocal fanbase," he said. "We listen to what [our fans] have to say, and I think this season's going to be very rewarding."
"People are eager and excited" for the show to catch up with some of the comic book's characters and storylines,  Alpert said, adding, "We're going to give them twists and turns—but we're not going to put it all out there. "
"It's not a bleak world, it's an intense world," Mazzara says about The Walking Dead. "We want you coming back because of the characters struggling against the odds. If you don't have humor or heart it becomes a big gorefest."
Not to say there isn't plenty of gore this season. Do not, we repeat, do not planning on eating dinner (or even snacking) during the season premiere.
"Breaking Bad keeps setting new precedents," Kirkman joked about AMC's other critically acclaimed series known for its graphic violence.
We'll see even more The Walking Dead's master of gore, special effects genius Greg Nicotero, will be showing off even more of his estimable talents this season: He's directing episode 12, Hurd told us after the screening.
So despite Darabont's exodus, we have to say The Walking Dead appears to be in very good hands. (Even if some of those hands are covered in blood and zombie guts.)
Are you about to lose your mind with excitement about the return of The Walking Dead? Scream it out in the comments!