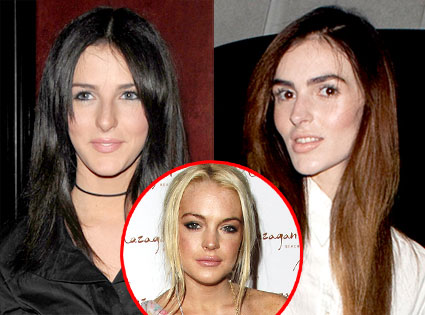 AP Photo/Peter Kramer; SPW/Splash News; Gareth Cattermole/Getty Image
Ali Lohan's big sister is speaking out!
Just one day after the rumor mill went into maximum overdrive with speculation that the 17-year-old aspiring model may have had a little work done on her face, sibling Lindsay Lohan is setting the record straight.
"She has never," Lindsay tells E! News exclusively regarding all the talk that Ali must have turned to plastic surgery to achieve her so-called "new" look.
Fair enough.
However, it's still hard to argue that Ali hasn't done something to alter her appearance in such a dramatic fashion within just the span of a couple of years (and we don't mean removing those blue contact lenses). So, if not a nip/tuck, then what?
Well, a source close to the family tells us that "Ali just lost a lot of weight."
What's more, Alexis Borges, the agency director at Next Model Management, which represents Ali, tells E! News:
"Contrary to recent reports, I can confirm that Aliana Lohan has not had any surgery. As a young girl who is growing up, it's natural for her facial features to change slightly, and we see this with many of the younger models we represent. Aliana is a beautiful 17-year-old girl who is growing into her face and body, as is the norm for someone of her age. We take pastoral care of our models very seriously and encourage the models to maintain a healthy lifestyle and body shape."
And there you have it, straight from Team Lohan.