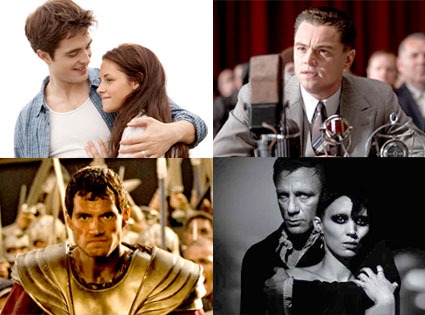 Andrew Cooper / Summit Entertainment; Keith Bernstein/Warner Bros.; Jan Thijs/Relativity Media; Columbia TriStar
See ya, summer blockbusters! With the changing of the leaves comes a changing of the movie landscape, and the fall of 2011 promises to deliver.
There's literally something for everyone: Immortals, a slickly stylized action flick starring soon-to-be Superman Henry Cavill; Leonardo DiCaprio delivering justice in Clint Eastwood's J. Edgar; Rooney Mara doing her best social misfit in The Girl With the Dragon Tattoo; and of course, a little flick called Breaking Dawn, Part 1.
Check out our list and get yourself ready for one serious season at the movies!