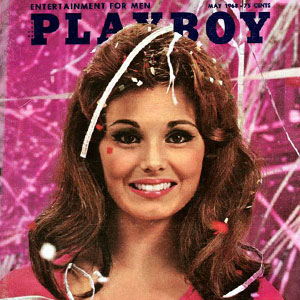 Playboy
There are no grottos where Victoria Rathgeb is going.
The 1960s-era Playboy Playmate was sentenced Wednesday to nine years in prison after pleading no contest to attempted voluntary manslaughter in the 2010 shooting of her husband of 25 years, Bruce Rathgeb, E! News confirmed Wednesday.
Rathgeb, 66, also must pay $70,000 to California's victims restitution fund.
Not very groovy of her to shoot a man, was it?
Her rationale or lack thereof isn't clear, but, according to authorities, Victoria shot Bruce in the back he was under the influence of alcohol and methamphetamine. She at first told police that a drug dealer had pulled the trigger.
Bruce testified at a preliminary hearing in January that he had been trying to leave their apartment after Victoria accused him of cheating on the night of the shooting. He was waiting for the elevator, he said, when, "quickly she just aimed and fired at me."
The model and actress was originally charged with attempted murder and, if convicted, would have faced the possibility of much more time behind bars.
Rathgeb was going by Angela Dorian back in 1968, when Hugh Hefner deemed her Playmate of the Year.
—Reporting by Marcus Mulick