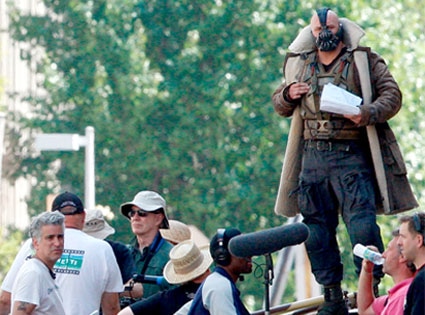 Jared Wickerham/Getty Images
Getting to play a badass villain in Christopher Nolan's Dark Knight Rises undoubtedly sounds like one of the best ways ever to spend some time.
But is it always a comfortable way to spend time. Definitely not. Tom Hardy, who plays Bane in the third installment, chatted with E! News at the premiere of his flick Warrior and clued us in on what it's like to suit up every day against the Caped Crusader.
"It's hot...very hot, and hard to breathe in," Tom told us when we asked how it was working in Bane gear. "But it's good fun!"
And while speculation always runs rampant before a highly expected film hits theaters, especially with pics from the set pouring out, Tom reassured us that with Nolan behind the camera, we have nothing to worry about.
"Christopher Nolan never disappoints," he declared confidently. "[He] certainly never disappoints me. I should expect him not to disappoint again."
That's all the reassurance we needed, Tom. Thanks.