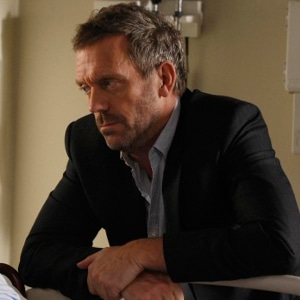 Byron Cohen/FOX
The calendar has flipped its page to September (calendars are capable of self-flipping, right?), which means the season premieres of all our favorite shows are getting closer and closer. We can almost taste them. Especially when we get not one, but two shows releasing clips from their first episodes of the season. Thank you House and Bones!
And the main characters of these shows could not be in more opposite circumstances. One is pulling janitor duty while serving some hard time, and another has become super protective of some precious cargo…
In the season premiere of House, the doctor behind bars has a new gig...and it involves pushing a garbage cart around. Fancy! Fortunately, he runs into hot doc (new castmember Odette Annable) while she's trying to do some diagnosing. And nobody runs differential better than Gregory House (Hugh Laurie).
Meanwhile, on Bones, Booth (David Boreanaz) swears he's never going to survive the pregnancy, while Bones (a truly pregnant Emily Deschanel) tries to convince him the baby is bubble-wrapped. Check out both clips below and prepare for fall TV to come back!
So? Are you excited for Bones and House to return after seeing the clips? And if you're confused as to why Mary Murphy is introducing the clips, join the club.