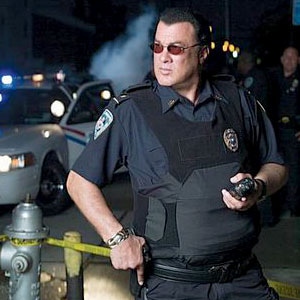 A and E
Steven Seagal, careless lawman?
The actor and animal rights activist is being sued over the death of a dog during a raid on an alleged cockfighting ring in March.
Seagal was riding in a SWAT tank that tore through suspect Jesus Llovera's Phoenix-area home, an operation caught on camera for the A&E show Steven Seagal: Lawman. Llovera is asking for $25,000 and a written apology from the Under Siege star, both to him and his kids, for taking out their puppy in the process.
This is just too sad to be ironic.
Seagal, who in 1999 was given a PETA Humanitarian Award, told Phoenix's ABC 15 after the raid, "Animal cruelty is one of my pet peeves."
"I came in on the 150 and we broke down the gate," he explained, referring to the tank he rode onto Sanchez's property. "I deployed out on the side of the house, and guarded one side of the house, to see if anyone would run out."
More than 100 birds were euthanized at the scene and the rest were moved off the property.
Maricopa County Sheriff Joe Arpaio, who welcomed Steven Seagal: Lawman to shoot in Phoenix with open arms, defended the use of such heavy artillery, denying that they brought out the big guns for TV purposes.
"I am going to protect my deputies," Arpaio said. "If I have to use a SWAT team, I am going to use a SWAT team ready for action in case something goes wrong."
Well, Llovera claims that something definitely went wrong and his dog ended up being gunned down by sheriff's deputies. He also is demanding $25,000 from the sheriff's office. (The animal cruelty charges against him for the cockfighting are pending.)
In a press release, Arpaio's office called the lawsuit "completely without merit," adding that "no dog was even injured, much less killed, during the operation."
A rep for A&E would only say, "This is an old story that keeps getting brought up. We aren't commenting."
Seagal's rep did not immediately return a request for comment. 
Apparently there's good reason for him trying to lie low. According to Arpaio, the action star "has received harassing comments and calls from associates who have been led to believe by published media reports that the actor was somehow responsible for the death of this dog."